Control email signatures from one central, web-based location
To the untrained eye, Exclaimer is a cloud-based signature management software, that simply saves the desktop support guys time. To people in the know, Exclaimer is a tool to drive and measure external and internal marketing and communications campaigns.
Exclaimer is an easy to use tool that ensures your communications and marketing packs a punch. It takes care of marketing 101 by keeping your branding standardised across all devices; including iPhones and MACs, but it really shines by using dead digital real estate to market and communicate to a captive audience.
Emails are often the first face of your brand, make them stand out with interactive internal or external marketing and communications campaigns that are measurable.
With the ability to run internal and external campaigns, managed by varying dates, this tool is a no brainer for any company looking for a hassle-free way to manage the basics as well as more eye-catching tasks.

Need an Exclaimer Quote or demo? Ready for a free trial or POC? Hit us up by filling in the form on this page.
OSH is an Exclaimer Cloud signature partner specialising in the design and deployment of cloud signatures for Office 365 and Google G Suite.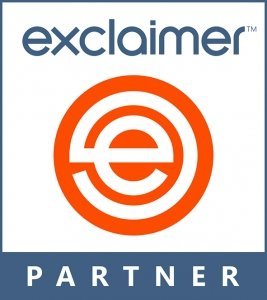 Exclaimer Cloud Signature Query